I've read in several threads across the internet and also here that scans from the Interpositive tend to result in a magenta tint.
I don't quite understand why that would be.
Here's an image showing the 4 stages: Original negative, interpositive, internegative (I think) and final print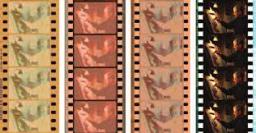 As you can see, the interpositive has an orange base. I am not quite sure why, Wikipedia only states this:
"The orange base provides special color characteristics that allow for more accurate color reproduction than if the IP had a clear base, as in print films."
No idea why that would be, but fair enough. Negatives also come on an orange base and I've never bothered to find out why.
In either way, how do you go from an orange color base and end up with a magenta tint without doing so with deliberation? Is this some kind of historical artifact of some kind of traditional processes or is it somehow related to how the IP is filtered before/after the scan? Does it have to do with fading?
Maybe someone who knows can tune in and enlighten me.

Little update. I found something that appears to be a raw 4k Scan (as jpg, so its not really raw, but you get what i mean) of an interpositive of apparently Dawn of the Dead:
Also very clearly an orange base. How do you go from this to a magenta tint?