2020-10-09, 03:03 PM (This post was last modified: 2020-11-07, 03:16 PM by pipefan413.)
EDIT: Original thread title was "[Proposal] Pick a Halloween resync!" but after THE EXORCIST was selected, the thread has basically turned into me analysing the various LaserDisc audio tracks for that film and detailing the process of creating new resyncs for them. I could potentially branch it off into a new thread entirely, but I figured I'd already put so much of that kind of stuff here that it would be weird unless those posts were also moved. Admins/Mods: by all means let me know if you'd rather move the more Exorcist-specific posts in this thread into a separate one, and I'll edit accordingly to contextualise that.
Many of my previously started / researched projects are either sort of on hold indefinitely while I focus on capturing various LaserDiscs and in most cases resyncing audio to something else. But it's October, we're rapidly approaching Halloween, and I'd like to get at least one or two resyncs done in time for the 31st. But I can't decide which one(s) to prioritise because there are so many that I'm excited about.
So I think it might be worth putting this to a vote!
Here is a selection of some of my more horror-y LDs that I've either already captured or plan to capture this month. I'm still relatively new to doing full resyncs from scratch so I'm not working very quickly (or maybe I am? I don't really know!) but in any case I won't get all these done before the 31st. Pick one, and if you have a second choice, let me know your two picks in the thread! All the digital ones will be bit perfect digital rips (largely thanks to @
bronan
's test kit and helpful posts on that subject).
THE EXORCIST (1973) original mono, analogue [10JL-1007 *and* NJEL-01007]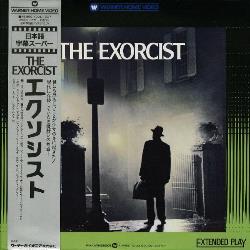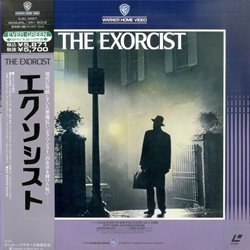 @
The Aluminum Falcon
did a resync of the first pressing audio for his excellent theatrical cut restoration but due in part to the lack of availability of the LD video, prioritised the surround track made for the later 70 mm re-release. I'd like to see the original mono given some love so I've bought *both* pressings of the Japanese LD with the original mono track, and have captured them both multiple times (with the video) to ensure good coverage and so on.
ERASERHEAD (1977) original mono, analogue [NDH-101]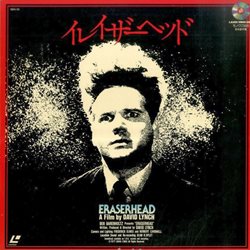 Yes, the actual mono track. No, not the Dolby Stereo remix overseen by Lynch, which might be subjectively "better" for all I know but certainly is not what was heard in 1977. This is a new one afaik. One of my players has an issue playing side 2 for some reason but the other has no such problem and the disc is spotless so I dunno what's going on there.
HALLOWEEN (1978) original mono, digital [AML-0040]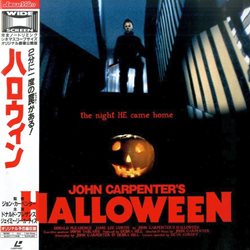 The Criterion mono was already captured and resynced by @
spoRv
as 1.0, but I'd still like to capture and resync this later Japanese version, keeping it as 2.0 for the sake of archival, partly to see if it's meaningfully different to the Criterion one. The existing resync is the only way I'll watch this film at the moment, because the only post-LD release of the mono is on an OOP US Blu-ray and even that has been assaulted by noise reduction that takes all the power out of it.
THE EVIL DEAD (1981) original mono, digital [STLI-3001]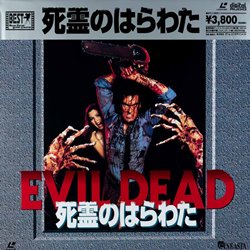 The existing BD-targeted resync is from the analogue track, whereas the digital track has only been resynced to the UHD as far as I know. I don't have the UHD mostly because I don't have a UHD display nor the desire to have anything in 4K for viewing purposes, so I don't really want to be watching everything resampled to 8-bit and SDR in real time in case that causes issues. I'd potentially be resyncing the digital mono to the fullscreen German Blu-ray, most likely, which is identical to the fullscreen US Blu-ray as far as I'm aware. However, it might be good to resync to DVD video which hasn't had Rob Tapert removed from the side of the bridge and the moon optical shots fixed, because it really irritates me that those things were changed; I have the PAL 1.85:1 DVD from Anchor Bay and the NTSC 1.33:1 DVD from Elite, most likely the 1.33:1 will be my preference but I've not watched them to compare yet.
NEAR DARK (1987) original Ultra Stereo, digital [ID6585HB]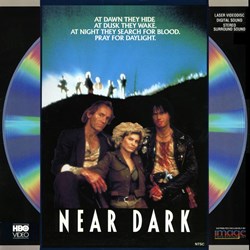 I previously restored NTSC DVD audio to the French/German Blu-ray video, but this is the holy grail: the original Ultra Stereo in lossless PCM, rather than 192 kbps Dolby AC-3. As far as I'm aware, this LD is the only lossless release of this track ever to see the light of day.
There's also another one that I'm quite excited about, but I don't yet have a video to go along with it, so I think it'll have to wait:
BRAINDEAD (1992) original Dolby Stereo, digital [PILF-1822]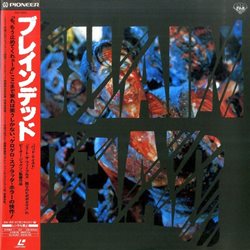 I don't know if this has ever had an uncut HD release, but supposedly the UK version remained uncut so maybe the 97-minute runtime on Blu-ray.com is either incorrect or accounting for PAL speedup. In any case, this LD is uncut at 104 minutes. The 97-minute Blu-ray releases in the US and AU are long OOP I think, and I don't have either, just that DVD.