DaLucc™ - DVD and LD upscaled combined chroma
Similar to PaNup™ (
https://fanrestore.com/thread-25.html
), this technique would get improved chroma using DVD and LD sources; it is intended to be used as chroma replacement for an HD source, or as color reference in conjunction with an automated color correction tool.
The theory is simple: any actual video format uses a chroma subsampling; DVD uses 4:2:0, where there is one chroma "pixel" for each two luma pixels, on both vertical and horizontal dimensions, while LD used 4:2:2, where there is one chroma "pixel" for each two luma pixels on the horizontal dimension.
While the resolution of the DVD is 720x480 (NTSC) and 720x576 (PAL), its actual chroma resolution is just 1/4th of that, at 360x240 (NTSC) and 360x288 (PAL) - this are the best cases using progressive material; with interlaced, it is lower.
For LD, we have an effective resolution of about 540TVLx480 (NTSC) and 540TVLx480 (PAL) while chroma resolution is less than 1/3rd of that at 160TVLx480 for NTSC - using a well mastered disc, better with SuperNTSC encoder, the best players, and a 3D comb filter in the player, capture card, or video passthrough like a DVD recoderd; it should be 160TVLx576 for PAL in theory, but PAL laserdisc players are notoriously inferior to NTSC counterparts, and none has a 3D comb filter - and I'm not aware of any PAL capture card or DVD recorder with a 3D comb filter, plus there is no "SuperPAL" encoder, and usually PAL discs have a lower overall video quality; hence, actual chroma resolution for PAL laserdisc would be around 120TVLx288.
If you have read the PaNup™ article, you can imagine that color pixels of DVD and LD would cover different colors, as they are less than the luma pixels. At the end, DVD would actually get only 25% of the original source colors - 50% horizontal and 50% vertical , while LD would get 50% in theory, but around 37% in practice, of the original source colors - 50% (37% actually) horizontal and 100% vertical; when captured, this would translate at around 720x480 (NTSC) luma resolution, and 212x480 chroma resolution - in the best cases; for very well mastered discs not SuperNTSC encoded, high quality but not MUSE laserdisc players, and average 3D comb filter, chroma resolution would be expected to be around 180x480, or 25% horizontal and 100% vertical.
So now we have two sources - temporally and spatially aligned - with effective chroma resolution that is just one fourth of the luma resolution, but placed in different ways; upscaling them at the same resolution, then combining them would result in improved chroma quality; this could be used "as is" to replace an HD chroma - if it's perfectly spatially aligned as well - or as a color reference for color matching tools.
For test purposes, DVD and LD chroma resolutions are simulated, downscaling HD source from 1920x1080 16bit 4:4:4 to 360x240 for DVD and 180x480 for LD; in the examples, they are upscaled to 1920x1080, and coupled with HD luma at 4:2:0, cropped to see better the differences. Note: of course in real life things would be a bit different... colors of both source should be closer, or the result colors would be just an average of both source; temporal alignement should be perfect, and spatial alignement should be as perfect as possible - within one pixel; subpixel alignement could be necessary.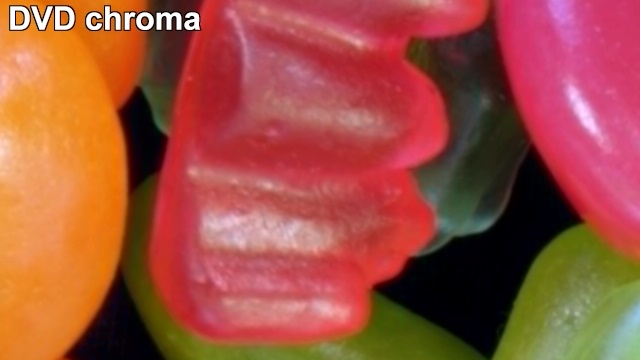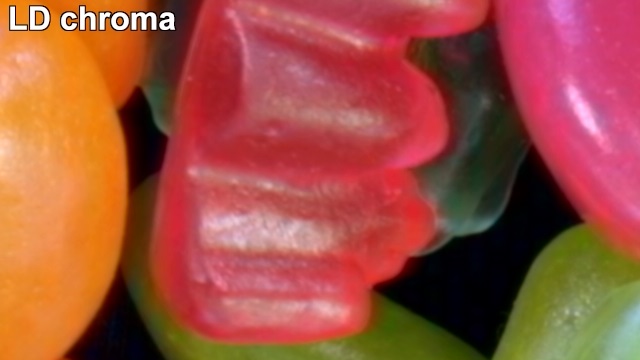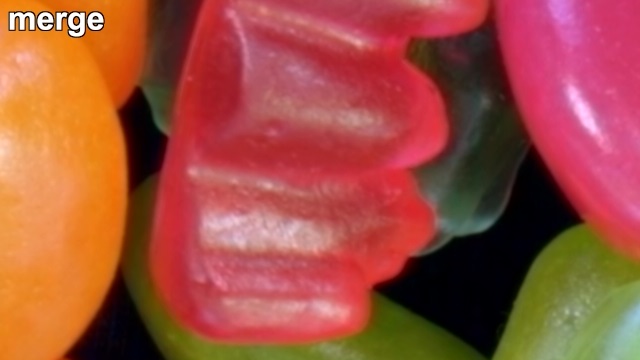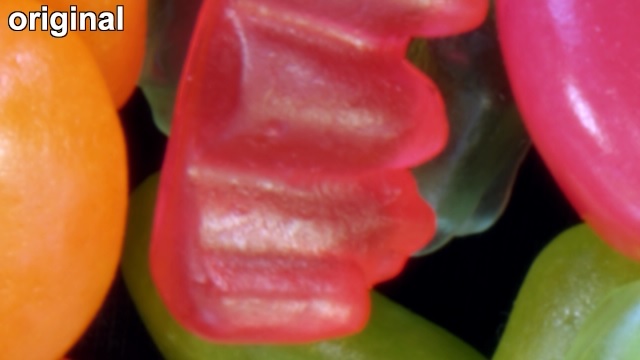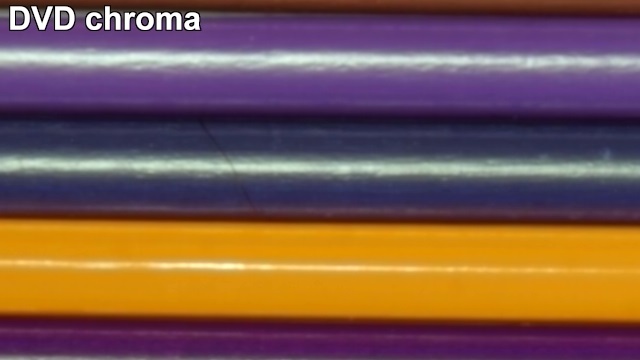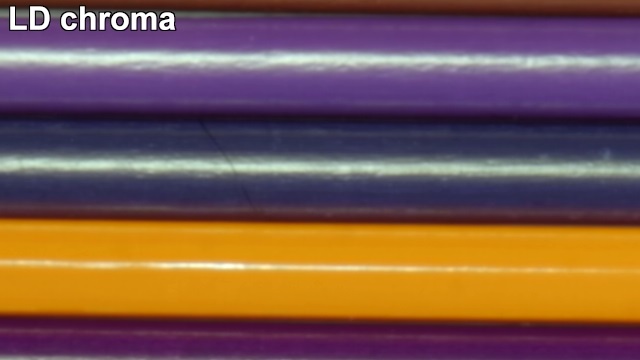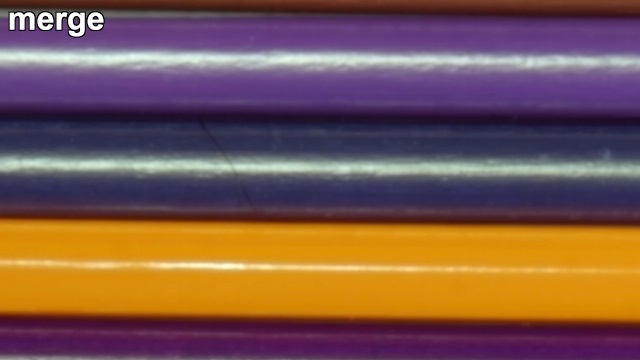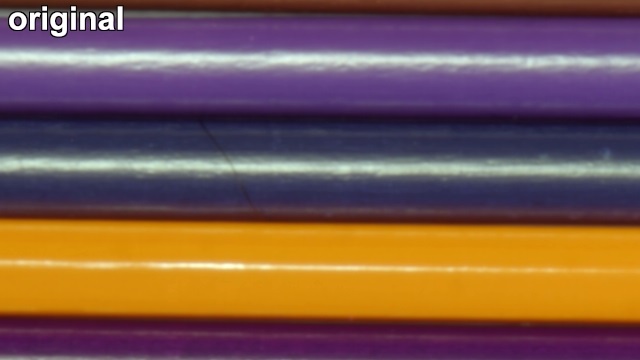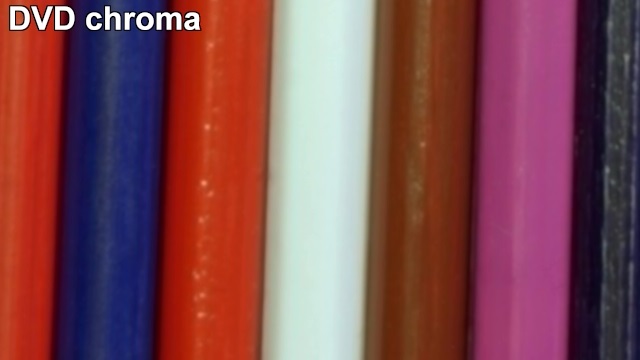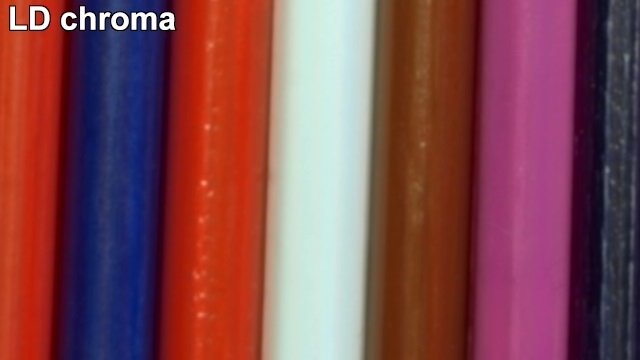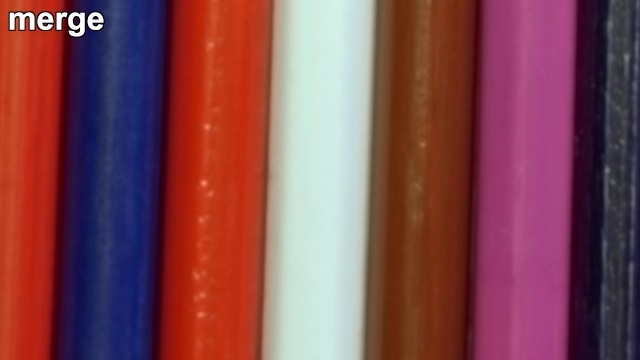 Of course, there are times where difference between DVD (or LD) and merged chroma are very noticeable, other times subtle, and few times merged chroma is worst - for example, where there are a lot of diagonal lines; but almost always result is better than single source. Is it possible to use other source combinations - like PAL DVD and NTSC DVD (in this case only vertical chroma resolution would be improved), or DVD and 720P, or even 1080p and 720p to apply chroma to UHD; try to avoid to use NTSC and PAL laserdiscs, unless they are the only SD sources available; and leave VHS alone - it would give you around 40x480 chroma resolution on NTSC, in the best case scenario...
Complete comparison here:
https://diff.pics/6kC0Nbp3Os87/1