2017-06-20, 09:32 PM (This post was last modified: 2018-03-01, 03:03 PM by Chewtobacca.)
Abstract: The proposal is to make a custom 2.1 mix for the theatrical cut of Alien, using the 2.0 LD PCM of the Sensurround mix as a base.
Initially, I had intended to propose a fully discrete mix based on the Sensurround AC-3 5.1 from the LD, but the recent discovery that everything above 18 Hz is cut off in the 5.1 (probably a consequence of the encoding) makes it seem as if the 2.0 PCM is the better source.
Here is a spectogram of the 5.1.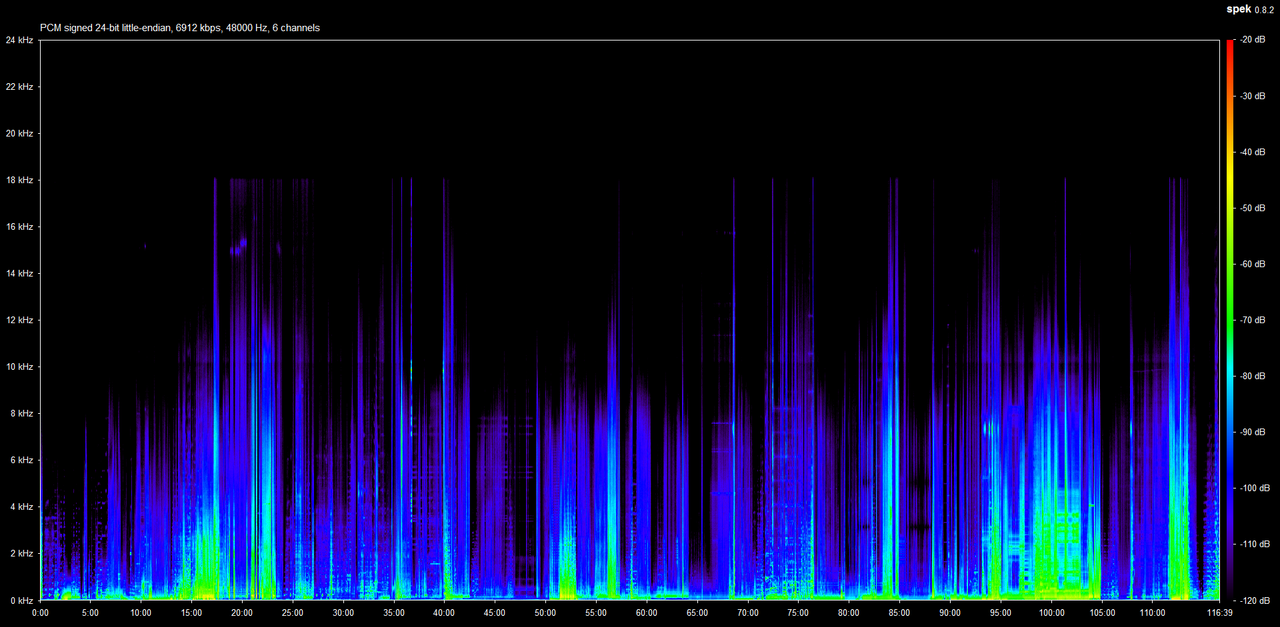 And here's one of the 2.0.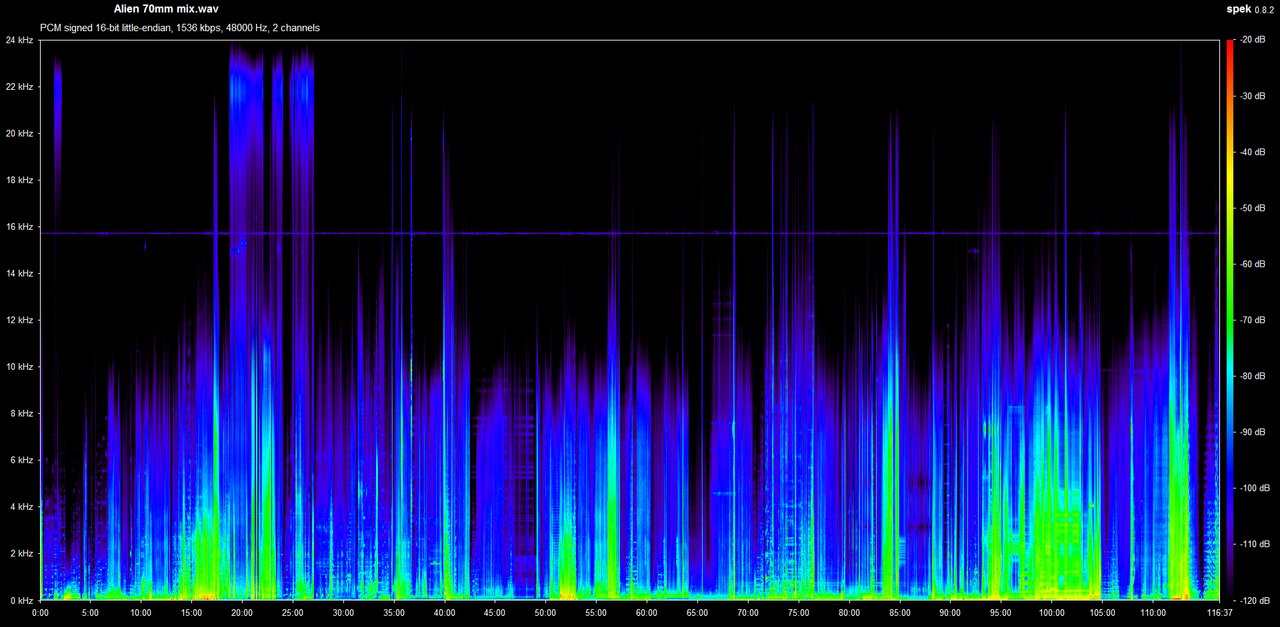 As the Sensurround mix is something of a rough draft, the basic idea is to splice in sections in which the finished mix is superior from a 2.0 PCM source.
At present, I'm not sure of two things:
if there is any interest;

if I'm the best person to take it on.

The latter will depend on the extent of the musical differences and what people want to see from a custom mix.
Ideas
retain alternate Goldsmith score at start

put back missing dialog

replace sections in which the Sensurround's sound editing is rough

retain alternate take of "Good morning, Mother."  I don't know about you, but I prefer it.

take the LFE straight from the LD AC-3 5.1 (deep bass throughout)

encode as DTS-HD MA 2.1, allowing the receiver to handle the upmix

Useful Information
Disclord's discussion of the Sensurround mix
Here are msycamore's notes about how the Sensurround mix differs.
http://originaltrilogy.com/post/id/600844
msycamore Wrote:

Jerry Goldsmith's score on the title sequence and opening is a little bit different, pay attention when we first enter the corridors of the ship, the 35mm is scored right away.

What appears to be a distant horn emanating from Nostromo when we first see the ship is absent.

Dallas line "Good morning, Mother." is an alternate take.

Kane's line "Roll 92 degrees port yaw." is absent.

Lambert has an additional line of dialogue heard when they prepare to land on the planet, "900 meters and dropping." (subtitled on the 20th anniversary DVD)

From the moment when Nostromo is approaching the planet until they enter the atmosphere, the sound editing is very rough with a few alternate cues heard. (Deep bass from the engines)

Right before the Space Jockey scene, Kane's lines "Come on down here. Something different down here..." are absent.

When the crew discusses Brett's death, Ash's response "Kane's son." is absent.