2020-06-02, 11:05 PM (This post was last modified: 2020-06-13, 01:39 AM by pipefan413.)
a preservation by pipefan413
This is less of a restoration and more of a preservation / resync similar to the one I did for NEAR DARK. The difference is that this time I have lossless audio to play with, meaning I have no qualms about decoding, editing, and re-encoding back to the source format again (DTS-HD Master Audio, 7.1) rather than feeling I had to limit myself to only trims and delays to avoid degradation (as you'd get from re-encoding a lossy format to a lossy format after editing).
As a bonus, I've also gone through all the English subtitles translating from other languages (almost exclusively, Korean) and re-translated them myself, in an attempt to both fill in blanks where lines were not translated at all and also to slightly improve the accuracy of representation of what's being said. These are available in both PGS (Blu-ray Disc compatible) and SRT (simple text-only) format, and can be forced so that your player should play them back by default. (Some hardware that will play PGS off a disc won't do so from an MKV file over USB or whatever, which is mostly what the SRT file is for.)
The idea is, put simply, to take the best existing elements available and combine them. This could be defined as a remux, but I'd argue that somewhat oversimplifies what's involved; I'm not just taking demuxed streams and sticking them together, I'm also very precisely synchronising them down to individual audio sample accuracy rather than just doing simple positive or negative delays, which are limited to cutting at whole audio frames (in this case, each containing 512 samples). In practice, I do not expect anybody to notice the difference (including me) but it makes me happier to know that I've done absolutely everything I could to keep this as spot on as possible... assuming, of course, that the original South Korean release was accurately synchronised in the first place. Still... at 48 kHz, there are 48000 audio samples per second, each lasting for 0.0208333 milliseconds, making that my error margin with this method. If I'd stuck to delays only, I'd have ended up with the audio being about 2.375 milliseconds ahead of the video. Doing it this way means that the audio is precisely the same sync as its original South Korean presentation down to ~1/50 of a millisecond. It also results in a more efficient DTS-HD MA encode, for one reason or another (I believe this has more to do with the original South Korean video bitrate than anything else).
I have direct sources for just about everything at this point. If you have another release with different subtitles that you'd like me to include, let me know; I think I'm only missing Japanese, Chinese and Russian, but they're expensive or awkward to get a hold of where I am so I'm not going to force the issue. I've already spent entirely too much money on this one film, frankly...
I already have the following international Blu-ray Disc releases, all of which have contributed at least something (even if it's just a subtitle track) to this project...
South Korea

France (BD + DVD)

Italy (2 x BD)

Germany (Steelbook, BD + DVD)

Norway

US (Anchor Bay 2 x BD special edition, now out of print)

... and the only one I own that is completely useless to me is the brand new UK release, which has nothing new on it at all. The audio and video are the same as the earlier Australian release, which is in turn a repackaging of the 2-disc US version but with 16-bit instead of 24-bit 5.1 DTS-HD MA audio, and the bonus features on the UK disc are edited down.
I was waiting to check the long-awaited UK Blu-ray Disc before releasing this project, but since it's a bunch of crap in a slipcase, here we are!
CURRENT STATUS:
VIDEO:
done
AUDIO:
done

(redone to avoid any automatic dithering)
CUSTOM* ENGLISH PGS + SRT SUBTITLES:
done
CUSTOM** ITALIAN PGS SUBTITLES:
done
ENGLISH BD SUBTITLES (partial* and full):
done
KOREAN BD SUBTITLES (partial* and full):
done
FRENCH BD SUBTITLES:
done
GERMAN BD SUBTITLES:
done
SPANISH BD SUBTITLES:
done
DANISH BD SUBTITLES:
done
FINNISH BD SUBTITLES:
done
NORWEGIAN BD SUBTITLES:
done
SWEDISH BD SUBTITLES:
done
ITALIAN BD SUBTITLES:
done
- do not translate English text at start because Italian BD has Italian text burned in instead**
* This film has dialogue in multiple languages, with the vast majority being English and a substantial portion of the rest being Korean. The partial subtitle tracks (including my custom English ones) are translation only. So, for the Korean, this means translating only non-Korean (mostly English), for English it means translating only non-English (mostly Korean).
** The German and Italian releases actually have German/Italian versions of the text burned into the video and so the Italian one doesn't translate it in the subtitles, hence that translation not being present here (but curiously, the German one does duplicate it in both the video itself and the subtitles). The French and German releases include audio dubs in their respective languages, which have also not been included here, because they would significantly bulk up the file size and honestly the official French and German releases are already fine as they are if you want to watch them dubbed in those languages. They do not suffer from the 1.85:1 to 1.78:1 crop that plagues all of the English language region releases of this film (the Italian one did but they actually fixed and reissued it, unlike any of the English language distributors).
Newly translated subtitle samples: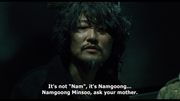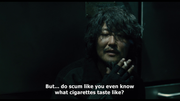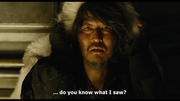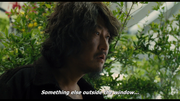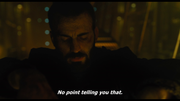 For comparison purposes, here are some of the changes to the English subtitles translating other languages (almost exclusively Korean)...
US BD: not translated at all... in the film, the translation device fails and says "unknown words found... please try again using correct vocabulary" because it doesn't recognise his name or the slang/swearing
New translation: "And first off, it's not 'Nam', it's Namgoong. Namgoong Minsoo, ask your mother..." (oh dang!)
US BD: "I won't waste it on a prick like you." (he's talking about a cigarette... "won't" is a kinda weird way to phrase this)
New translation: "But... do scum like you even know what cigarettes taste like?" (the actual word is really "dog" or "cur" but that sounds inappropriately posh)
US BD: "And do you know what I saw recently?" (sounds like days or weeks ago, right?)
New translation: "And earlier... do you know what I saw?" (he's actually talking about a few hours ago max, so "recently" is a weird word to use)
There's also a whole section about "the type of snow that's about to melt" that's really clumsy and incoherent (and other sections that are similarly baffling), all of which has now been re-translated as accurately and naturally as possible... and so on and so forth. I'm not going to put everything here since it's a lot and some of it would be pretty spoilery as well.
A NOTE ON FOREIGN LANGUAGE (DUBBED) AUDIO:
I noticed that as soon as I finished work on
NEAR DARK
, people wanted different audio languages that I hadn't included. This was kinda intentional, partly because I couldn't verify the quality of the dubs (and indeed based on how screwed up the English audio was, it seemed likely there would be issues with the dubs too; at least some of it was definitely PAL pitch shifted, for starters). What I've tried to do with this one is spend a lot of time and cash tracking down as many international releases as possible to provide foreign language subtitles, but do not currently intend to include the audio dubs. I have two main reasons for leaving the audio out. First and foremost, this is not mono or stereo we're talking about here, it's full 7.1 and 5.1 lossless surround mixes, and they're big. Secondly, though, the official Blu-rays that contain dubs are currently not that hard to get hold of if you're in the countries that they're sold in (e.g. France, Germany, Italy...) and I've included very detailed notes on my process with this which means you can very easily demux the audio yourself and then apply either a negative or positive delay in eac3to to sync it with this release (the exact offsets are in the documentation). From my point of view, if you want a copy of this then you should already own the film on Blu-ray anyway!