2020-11-21, 07:50 PM (This post was last modified: 2020-11-21, 11:37 PM by pipefan413.)
There's been enough discussion about this in what's mostly an unrelated thread that I feel like we should probably have been discussing it elsewhere, so here's a place to do it.
The basic gist is that there seems to be some consensus that the Blu-ray Disc is inaccurate in a number of ways and I find this annoying. So far I think this is the basic rundown of what's potentially up with it:
Problem 1: PAL speedup and changed music.
The mono audio track (which is only included as lossy Dolby Digital) has the wrong instrumental music at the end of the end credits. The US DVD has the right music here, but it (and the music before that, also in the end credits) are pitch shifted upwards, presumably indicating that they were sourced from a PAL master but slowed down without also fixing the pitch, for some bloody stupid reason. This seems to be a recurring theme with a lot of DVDs and Blu-rays (I first saw it on NEAR DARK).
Proposed solution: I have just captured the German LaserDisc, which is lossless 44.1 kHz PCM, and will be able to accurately resample it to simultaneously fix the pitch shift and speed without any noticeable degradation. (EDIT: But that won't help much because it's stereo, even though I phase-flipped and combined it earlier on to test for this and it tested as mono at the time. I dunno what happened earlier but Audacity must've crapped its pants without me realising: it rendered a flat line as waveform and played as silence, but I just checked it again and now it's got audio in the file. Damn.) I would also ideally like to capture the UK anniversary LaserDisc released a little later, but unfortunately it seems this is quite unlikely to appear for sale because only very few copies were manufactured in the first place. I will probably just take only the end song from the UK DVD and PAL->NTSC speed correct it, sticking it onto the end of the Blu-ray or NTSC DVD audio.
Problem 2: colour tints removed or not correctly reproduced.
At least two scenes seem to have inconsistent colour grading across different releases. Firstly, there are two visually similar, er... bedroom encouters. We see one with one character, which has very warm red grading, then another one with another character almost immediately afterwards. The trouble is, the second one seems like it should be graded blue, but on the Blu-ray it's a balanced white. I was very curious to see what it looked like on LaserDisc, and was somewhat surprised to find that the LD is the same as the Blu-ray in this respect: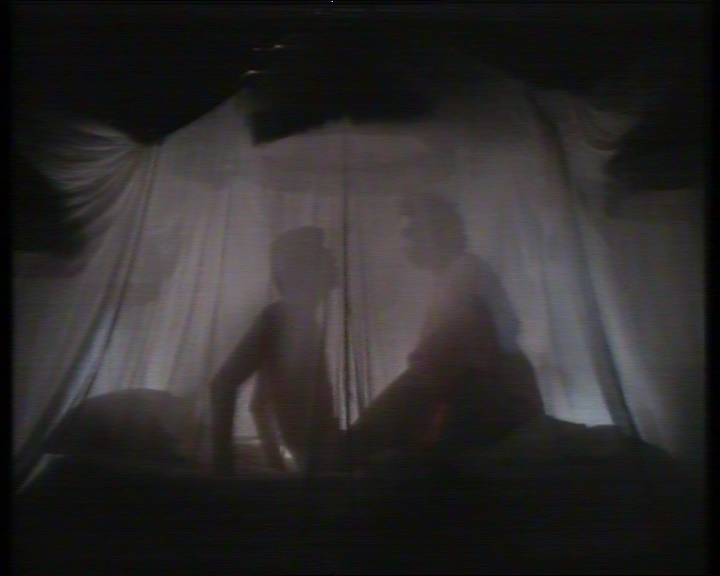 By contrast, the early 2000s US DVD does have the blue tint on that scene: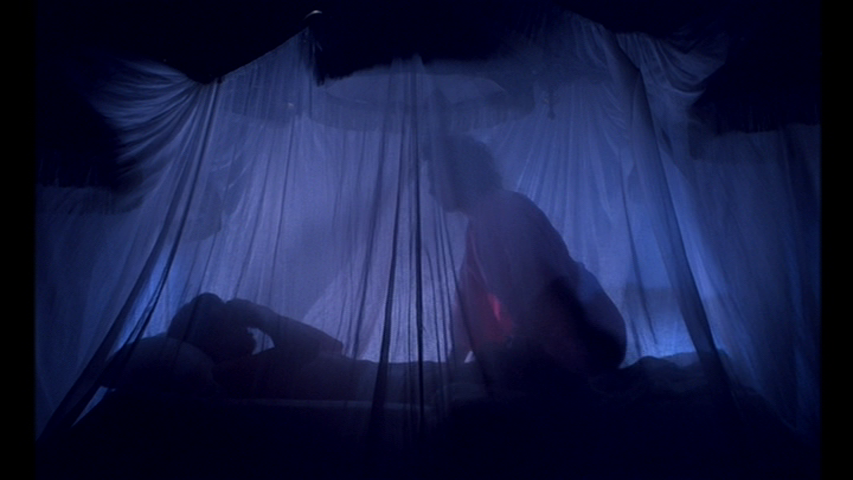 The other one that's seemingly wrong is a flashback sequence around the 1.5h mark which should reportedly also have a blue tint, but it seems that it has never been blue on any home video release (only in cinemas) for some reason: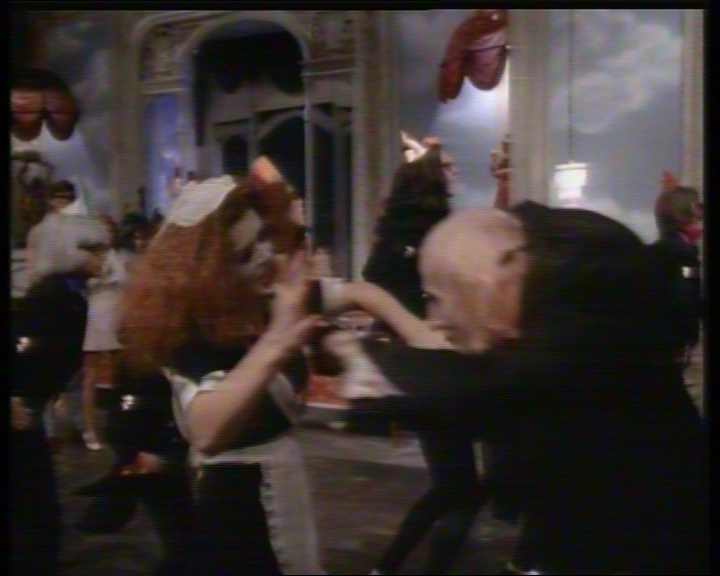 It seems that there is a tendency to grade out photochemical blues in a lot of these films, for whatever reason...
Proposed solution: It seems relatively trivial to apply a blue tint across the sequences that need it, but doing so accurately is not going to be possible without a reliable reference. Since the only reference I have is the 2001 US DVD, I'll take that as a guide, but I'd just be eyeballing the flashback scene later in the film since it's balanced and not blue on all home releases. (Chapter 32 on the DVD, but it's only a few short shots that should supposedly be tinted.)
Problem 3: Incorrect cropping.
(2020-11-21, 06:56 AM)

crampedmisfit1990 Wrote: The BD opening credits also need fixed since they have black bars cutting off the top and bottom for no apparent reason. No other scene is cut off like that and the HD copies on various sites like Vudu aren't cut off, I believe it is the DVD master in HD as you mentioned previously is why.
If anybody has a solid idea of an HD version somewhere that uses the older master (and therefore isn't cropped at the opening credits, and probably does have the blue tint in the bedroom scene) please let me know!
Thanks to @
NeonBible
, @
crampedmisfit1990
, and @
SpaceBlackKnight
in particular for information given thus far.