Curious about how a big sleeve/vynil edition (that was invented by us Italians, it seems) look like?
blu-ray with laserdisc/vinyl sized covers
I always dreamt of doing something like this; I even tried to make a similar custom jacket, maybe ten years ago... but now, I would like to find a way to do custom covers for my projects!
No idea where to start, frankly; make some searches on the web, found few interesting links:
Craft Corner : Making Laserdisc Covers
the author just applied printed sheets over blank generic LP sleeve; result seems not bad, even if artwork is not great IMHO...
DIY Record Album Covers!
this is way better! Author made the cover out of photographic paper, with an insert sheet with transparent mounting hubs, and CD labels that perfectly recall the sheet graphic. A very nice project indeed!
How to make your own LPs for $$$ and not $$$$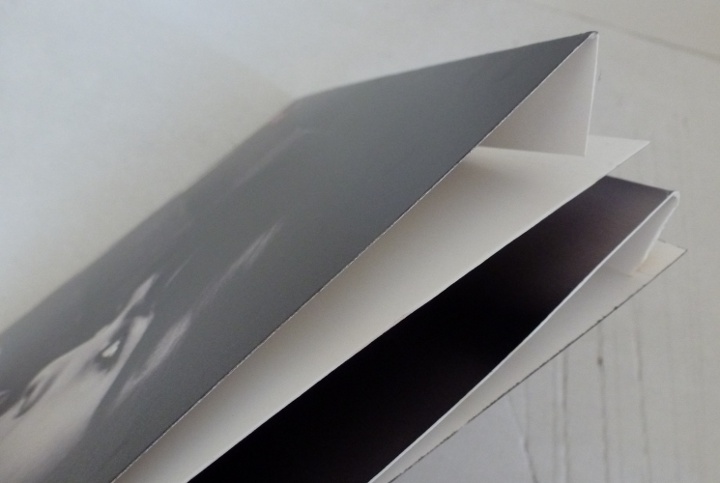 just jump to the gatefold cover making ideas; it could help to get something like the big sleeve/vinyl editions.
---
So, there are basically two design:
normal jacket - discs are stored inside it, on hubs attached to a inner sheet

gatefold jacket - it opens like a wallet; discs are stored on "pockets", while additional material like miniposters could be inserted inside an open side

For the first design, I think the second link is perfect; for the second one, I thought about a similar approach, with of course a different blueprint - twice the size, if you want double layer jacket, or an L shape if you like to get single layer on the front, and double layer on the back, to get space for the disc "pockets".
I guess it will always be possible to have a single layer gatefold cover, where the discs are mounted on hubs attached onto the right part of the inner side, but, using photographic paper of this size - that is usually 225gsm or 255gsm at best - I guess it would not be sturdy enough.
Another approach could be to print on smaller sheets (A3+) and glue them over a generic gatefold sleeve; don't know how nice could be the final result, though!
I can say that the cheapest option I found online to print a 64x64cm sheet (which is for gatefold sleeve, dual layer) is around 32€ for one piece, the same for two pieces (with the same content, of course); from 5 pieces on, individual price would be around 13€ - simple 1440dpi 4color print, no plastification. Don't know how much would cost printing them at home - using a cheap printer, which is around 200€, compatible ink, a3+ photographic paper, *maybe* would cost less, if enough prints are made, who knows?
EDIT: Disney covers have mainly white, and few black, borders on all sides... so, I guess, it would be possible to get white or black vinyl jackets, and print on A3 photographic paper (adhesive or not); this would be 29.7 x 42 cm (29.7 x 29.7 cm when cut square), that will leave less than 1cm for each side, more or less as the Disney covers; of course, following this method, the central part of all sides woud be a bit more thick, so I don't know how good could look.
P.S. on amazon.es, some titles, including three or four blu-rays, are around 8/9€!