This is just something I noticed to be a problem with my own captures of analogue sources. For example if you capture an interlaced VHS tape to a DVD, then you are losing important information.
The reason is simple; DVDs always have a color sampling of 4:2:0. As you all know, this means that
for every 4 pixels, only one pixel of color information is saved
.
Now, the way interlaced material is saved digitally is with alternating lines.
Line 1: Frame 1, Line 1
Line 2 : Frame 2, Line 1
Line 3: Frame 1, Line 2
Line 4: Frame 2, Line 2
Line 5: Frame 1, Line 1
Line 6: Frame 2, Line 2
And so on.
You can probably already see the problem. For every second frame, you are losing the complete color information!
This means that if you deinterlace your video back to 50/60fps, then you have no color information for every second frame. A simple deinterlaced will simply copy the color information of the odd frames to the even frames, thus creating weird looking frames like this: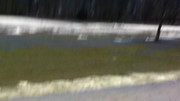 On the left side the erroneous frame with the color information taken from the previous frame, on the right side the frame as it should actually look. (This example here is made in Photoshop from a normal video, but it pretty accurately represents the artifacts you will get when you do this).
There are some deinterlacers that will temporally interpolate the color channel for this reason afaik, but this won't work properly with very fast movement and lead to ugly artifacts nonetheless. That information is permanently lost and effectively, every second frame is only black & white.
This is actually the case with all HDTV broadcasts, which are all saved in 4:2:0. If you use a deinterlacer and framehop through actual HDTV footage with 50 individual interlaced frames (or fields, if you prefer that term), every second frame/field will have the color information of the former frame.
The solution? When capturing an interlaced source, always capture in the very least in 4:2:2: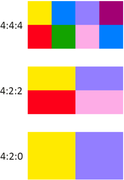 With 4:2:2, you still have horizontal chroma subsampling, but vertically, you keep the full resolution. This is necessary to preserve full color information in interlaced material.
If you capture an interlaced source to DVD or a PAL miniDV camera, both of which use 4:2:0 color subsampling, you will lose color information of every second field. This especially applies to TV broadcasts with actual 50 frames/fields and most likely all your old VHS/Hi8/Video8 home videos. So, it's better to capture to 4:2:2 or 4:4:4 and if you want to deliver in 4:2:0, it's best to deinterlace first.
Interestingly,
NTSC miniDV uses 4:1:1 subsampling
which actually preserves separate lines. Though in this case, your horizontal chroma resolution is quartered, so it's doubtful whether that's worth it.
I believe this is particularly important for Laserdisc capturing, which afaik are often (or always?) interlaced. I think you can probably still get the proper frames back if it's just a 24p stream in a 60i stream (telecine), but if it's actual 60fps content, you are losing all the color of half the frames. Which may apply to any kind of live recordings, interviews, behind the scenes footage, and also some company logos/trailers/intros and such, which are often not produced in 24p.
Thoughts?