2021-04-08, 12:59 AM (This post was last modified: 2021-06-21, 12:07 AM by LucasGodzilla.)
So, it's been a while since I last did a regrade project, but since I've yet to receive hard drives for some other projects of mine to progress on those, I decided to rewind back to something from a while back that I stumbled on, which was an
odd rip of a pan & scan transfer of

Halloween 3

that showcased some very unique color timing
that has never left my mind since I first stumbled onto it. As such, with a fair bit of time and effort in Resolve, Photoshop & Dr. Dre's, I would like to present you all...
PROJECT CELLULOID:

Halloween III: Season Of The Witch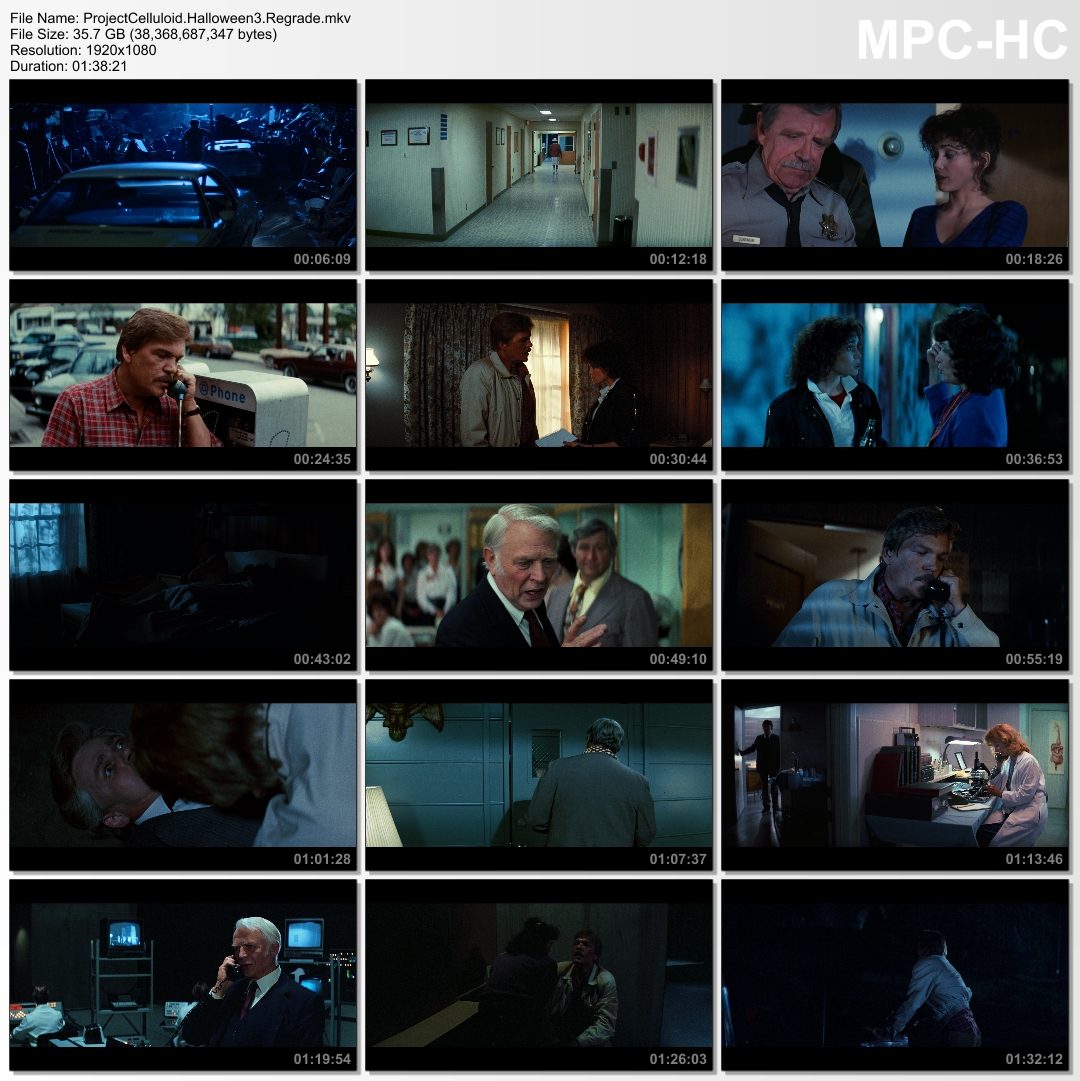 Now you all can experience the movie as how it was likely intended to have been presented back in the day with all of its heavy Cundey blues and darker, contrasty photochemical color scheme (though with the benefits of the 4K OCN transfer the Shout! BD). Still not 100% sure, but the only way to know for sure is to check out a 35mm print I guess, but I'm betting it'll look pretty much like this.
Keep in mind though, I wouldn't say it's perfect as there are some flaws that were sort of resultant of the shot-by-shot nature of the SD source's color timing, and since I decided to go at this scene-by-scene more often than not, I thought it was good enough to capture the atmosphere and intent. Furtherly, you will likely see some inconsistencies between environments at times (such as the motel nighttime exterior for example) as well as some off-looking skin tones as that's just how they looked on the SD source. Overall though, there shouldn't be anything that's deal-breaking and should provide you a fun, spooky watch—and in my opinion, it easily supercedes Shout! Factory blu-ray's vanilla flat and neutral color scheme.
In regards to what's included, I have only included subtitles and the dual-mono track provided by the Shout! Factory blu-ray. If you want to add in any of the commentary tracks or something, you're perfectly welcome to on your own as a sign of validation as to whether or not you own a legal copy of the movie since nothing has been altered runtime-wise. I did originally want to include some laserdisc track but it seems no one got to it yet unfortunately, but odds are the day one does get released, it'd probably easily sync up with this regrade as well.
If you would like a copy, shoot me a PM and I'll see what I can do! I'm not sure how long I can keep it uploaded since I will have to eventually make room for other projects, so if you want it, I recommend you get it now.
On a brief tangential note though, cause I'm curious about this possibly loaded question: How do y'all even feel about this black-sheep of a movie?