I would like to replace the following logo from a project I'm working on: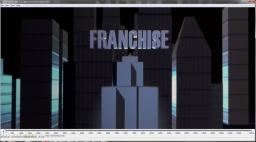 It's the typical "zoom out" thingy starting among those "skyscrapers" with the camera moving out to show this logo.
Not sure if it's possible to see in the screenshot, but the one I have has frame blending across all the masters I tried, which is very ugly.
Does anyone know of a version without the frame blending that I could use? HD of course. Film scan or Blu Ray source, doesn't matter, but ideally it's 16:9 or has a framing such that I can zoom in to show the same area as here.