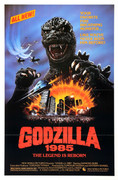 We all have the MonstersHD broadcast I presume of the 1985 re-edit of Godzilla 1984 (aka The Return of Godzilla) which featured Raymond Burr and Dr.Pepper.
I've seen some people try to tackle preserving this version of the film using the Japanese BD and the US BD of the 1984 cut of the film (even using an Australian VHS for the subtitle placement) but I don't think I ever saw a finished version come to fruition. (if anyone does know of a finished version, could they kindly point me in the right direction please) 
if not, think it would be a great title for our little community to discuss and find sources to work with.