I was reading up on some discussions about Die Hard 2's colour grading at blu-ray.com which seems to have varied over different releases over the years. 
Look at the shots of the church during daylight here
http://www.dvdbeaver.com/comparisons/com.../diehard2/
and these
http://www.caps-a-holic.com/c.php?go=1&a...03&i=7&l=0
http://www.caps-a-holic.com/c.php?go=1&a...35&i=2&l=0
So I'm trying to determine which one is correct?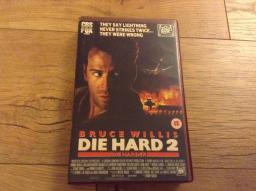 I do have a very good copy of this Die Hard 2 rental VHS (and the reatil version) (censored BBFC '15' version) which a friend of mine had converted to DVD professionally for his web series on censorship (something i work on with him time to time) and what i found interesting is that it opens with the cinema BBFC classification slide (which was different for VHS releases) meaning that it was 'possibly' telecined directly from a UK print (because of all the edits to the film). I have seen a 35mm print of it some years ago but can't remember how it looked now.
Now sadly I don't have the means or knowledge to take this project on but more than happy to assist with reasearch and sourcing of materials.