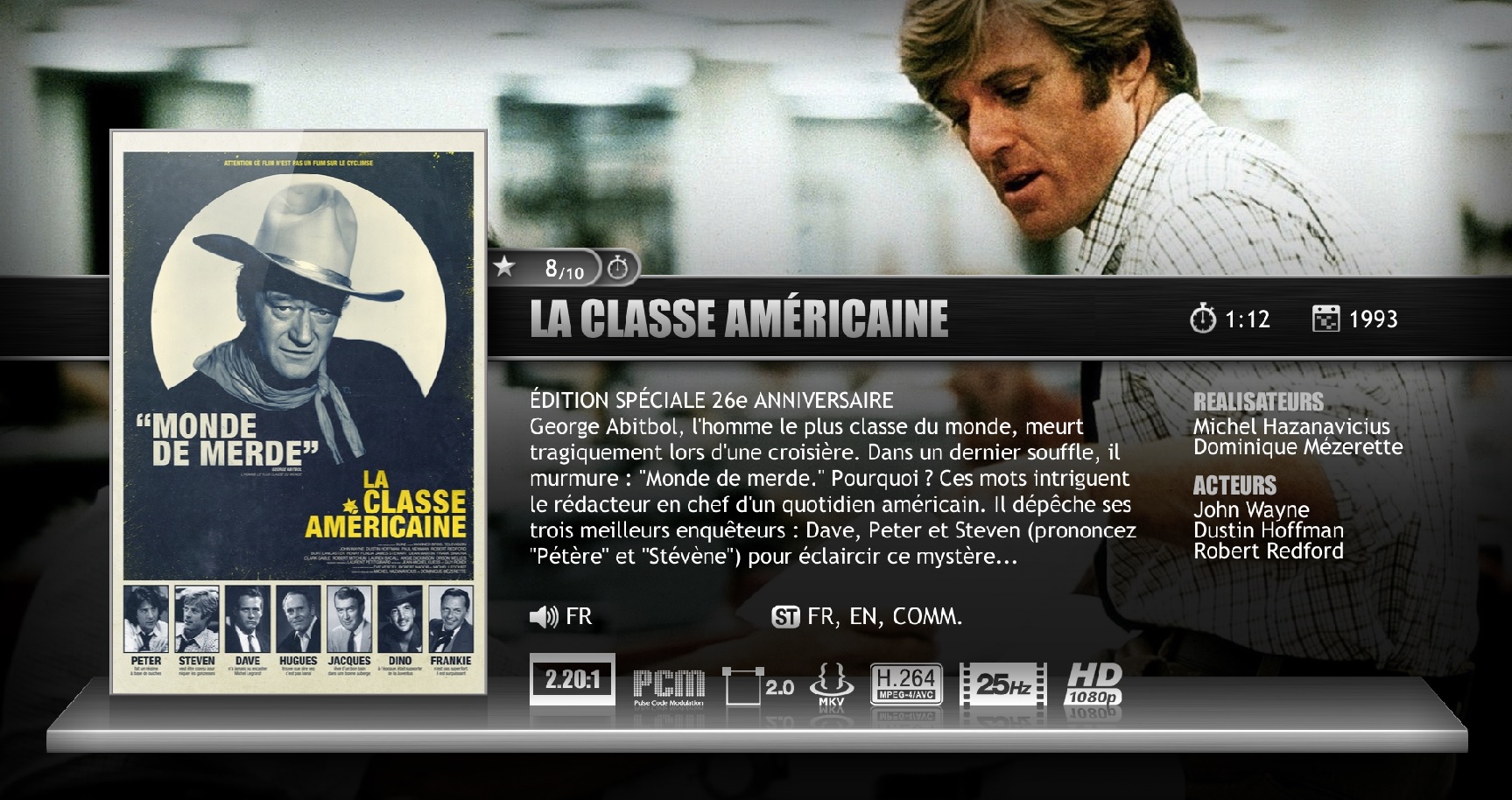 George Abitbol, "the Classiest Man on Earth", dies sputtering his famous last words: "Shitty world!" What the heck did he mean? Reporters Steven, Peter and Dave investigate.
La Classe américaine
is a comedy montage of scenes taken from the Warner Bros. catalog and dubbed to fit the narration.
https://www.imdb.com/title/tt0321715/?ref_=ttpl_pl_tt
For more information on the project, see the original thread here:
https://fanrestore.com/thread-2768.html?...%A9ricaine
* So why Special Edition? Why "fool" HD ? Why, why, why indeed? Since I like you guys, I'll tell you all:
- One, 'cause it's a restoration made in the digital era using digital tools unavailable at the time, based on the maximum amount of HD sources available at the moment, to which SD upscales were added to complete the montage.
- Two, 'cause the flashback scene of the writing of the letter is cut shorter on the source DVD, so the edit had to be modified using the onward/backward repetition technique used many times in the movie anyway, to circumvent this issue.
- Three, 'cause the lightening bolt shots in the beginning were never identified as to which movie they came from, so these were replaced by lovely restored ones from a MGM/Warner Home Video movie prior to 1993 to still be in the spirit of the original restrictions. Plus it gives the scene enhanced visual effects
à la
"Star Wars 'Special Edition'".
- Four, 'cause the whole thing was color timed and degrained to better sell the illusion that the shots are part of the same scenes.
- And finally five.... There is no five.
Video:
1080p @ 25 fps.
Aspect ratio:
2.20:1 just like the 70mm print that never was.
Audio:
French PCM stereo and AAC stereo with a fixed line that was clearly out of sync, even more obvious in HD.
Subtitles:
French for the hearing impaired, English (pardon my grammar, I asked for an English-speaking proofreader but no one answered), and English informative as to what movie is being used in the montage.
Trailer:
specially made for this 26th anniversary Special Edition, also included in the package.
Special thanks to:
CorVans Prod YouTube channel tutorials for DaVinci Resolve 15.
ilovewaterslides for his help on a handful of shots that required visual effects.
Colek, Plissken1138 for helping me locating movie sources.
Direct MEGA link on demand via PM (for active members only), also available on my YouTube channel created just for this project:
https://www.youtube.com/channel/UCBgdii0...uRfw6QKE3A