Alien: Covenant - extended edition [spoRv]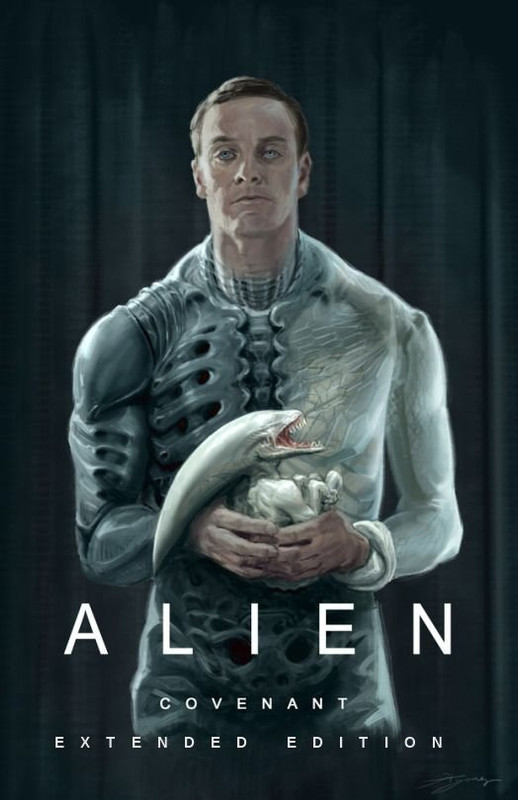 Original title: Alien: Covenant
Original runtime: 2h02m00s
New runtime: 2h19m30s
Scenes added & sources:
TED speech (Prometheus deleted scene)

Meet Walter (trimmed, official clip)

The Last Supper (official clip)

Crew messages (trimmed, official clips)

She Won't Go Quietly (first part, trailer)

The Crossing (trimmed, official clip)

Scenes cut: none
Video processing: defaded frames, added fades, grain plate
Audio processing: added scenes upmix from 2.0 to 5.1
Video format: x264 1920x1080 23.976fps VAR (main movie open matte 1.78:1, added scenes OAR 2.40:1)
Audio format: Dolby Digital 5.1 448kbps, English only
Notes: hardcoded Korean subtitles in the main movie
Release format: mkv
FAQ
Have you included all the deleted shots/scenes available?
I tried to add as much as I can, but for some I haven't found a viable way to insert them - like Daniels' Xenomorph hunt; but 17m30s aren't that bad, don't you think?
Why have you added a Prometheus deleted scene?
Because I thought it fit better in this movie than in the previous one...
Why this release?
US viewers should wait more than a month for the official release, EU more than two; after that, it will take some time to make an extended edition; so, this is a provisional release waiting for a better one; indeed, probably we should wait many months for the open matte version, hence this could fill the big gap...
Why a video bitrate three times higher than original source?
Because some added shots have very high quality, this will help to preserve it - the extended scene is from Blu-ray, while The Last Supper and Meet Walter are from ProRes versions at very high bitrate; this is the minimum bitrate allowed to retain almost all the added grain intact.