2019-10-01, 03:33 PM (This post was last modified: 2020-01-08, 03:04 PM by HippieDalek. Edit Reason: Updated to reflect a sixth version being unearthed! )
Version 2.1 is now available! 
Details here: https://fanrestore.com/thread-2840-post-...l#pid57882
Did you know there are

five

 six different versions of Highlander II? Yep,

five

six! It's crazy.
First European Theatrical Cut




Second European Theatrical Cut




Third European Theatrical Cut (Newly discovered)




Renegade Version




Special Edition



Sadly the European versions have been largely forgotten about, most likely because there has only ever been a single home release that contained the original English language audio track. Due to poor feedback the film was altered towards the end of it's run, which is why there are two European Theatrical versions.
The European versions are something like a half way house between the USA Theatrical and the Renegade; a lot of the additional content from Renegade is here but the ordering of the footage is very different and it loses a few scenes. And yes, Zeist remains intact! Much of the music throughout this version is strikingly different too. This is also the only version to contain the infamous "fairytale ending."
Back in 2008 a faneditor called Phineasbg created a preservation of the First European Cut, and I spent years trying to track it down. Once I finally got my hands on a copy I was disappointed to find that the picture quality was murky and the audio featured drop outs, glitches, missing segments and was also of overall poor quality.
Phineasbg did the an amazing job with what material was available at the time, but since then better quality visual sources have become available so I thought I'd have a go at putting together an updated preservation.
(Left: Phineasbg's Preservation, Right: This preservation)
As you can see, despite being a bit cropped, the visuals are much improved.
However there is little I can do with the audio side.
The original audio has only ever been released on a Hong Kong laserdisc, which is so rare that I have only ever spoken to one person who actually owns it.

I now have my very own copy of the laserdisc and have used it for this project! 

I had hoped to get a new audio rip for this preservation but sadly I've been unable to contact the laserdisc owner again. Instead I've done what I can to patch and smooth over some of the rougher parts of Phineasbg's audio. 
This preservation would not be possible at all without all the hard work done previously by Phineasbg.
The project ended up being a lot more complex than I expected, in the end all of the following sources went into it!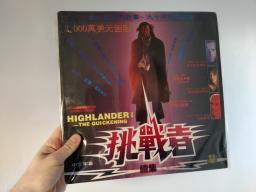 Many of the picture sources are in native PAL. This preservation is presented at the correct 24fps, but 576p 24 isn't a widely accepted standard, so to preserve all the detail and the correct speed I've rendered the file at 720p 24. This is still a standard definition restoration though, so don't expect HD levels of detail.
I've also thrown together a handful of video extras (detailed in the image below), I've included these as a separate download.
There are some possibilities for a 2.0 release if anyone is interested:
Italian and German audio tracks




One scene had to be reconstructed using the letterboxed Renegade DVD. I'd like to replace this with the Blu Ray cut to preserve detail, but currently I don't have a Blu Ray drive to rip my disc.




I'm still looking into ways to improve the audio quality 



As I have so many sources for every cut of the film, (including an excellent quality EU cut German surround track, and around 80% of the dialog and fx isolated from the Renegade cut) I'm attempting to reconstruct the audio from scratch. I've got about a quarter of the film done so far and it's sounding far better than I expected, so we'll see how it goes. I'll update if it all comes together. 
I would still love to get hold of a fresh audio rip of the laserdisc though, so if anyone can help at all then please get in touch. 
Anyway, I'll stop talking. PM for links and please let me know if you have any feedback. 
I've uploaded an older version of the UK Trailer reconstruction to YouTube if anyone wants a preview.
Program material is recorded on the other side of this disc...