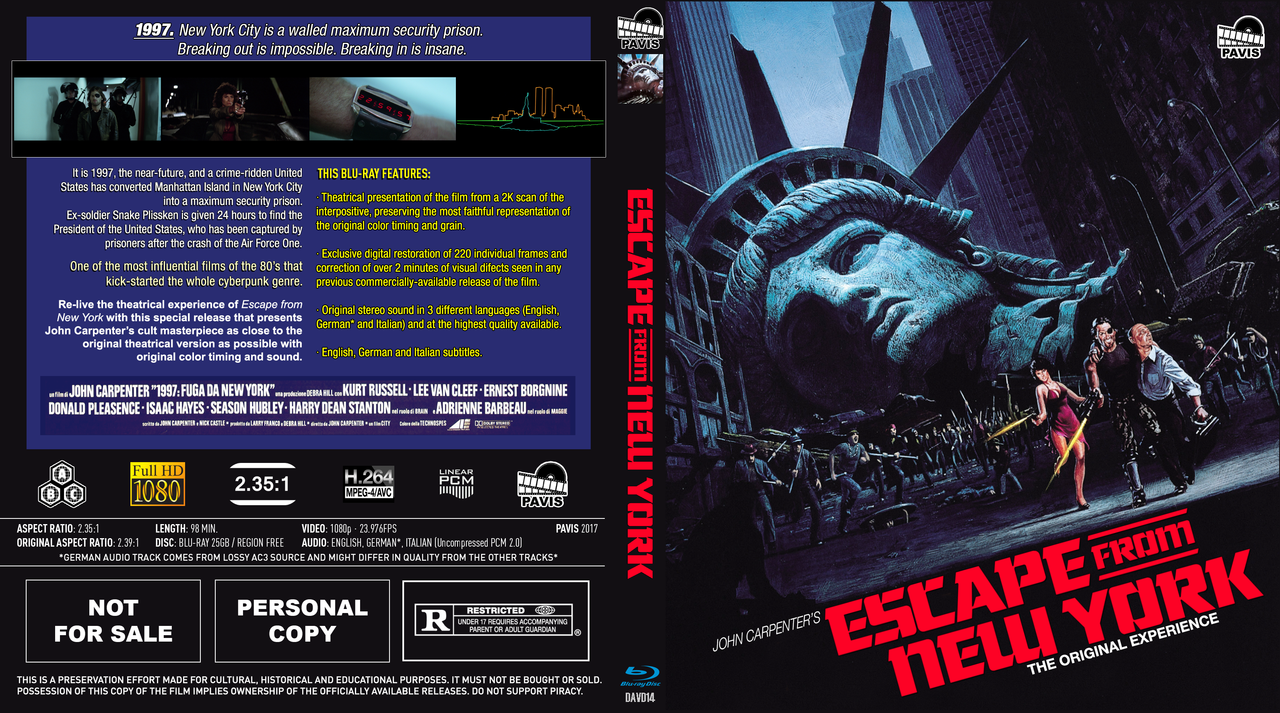 International Blu Ray cover (updated)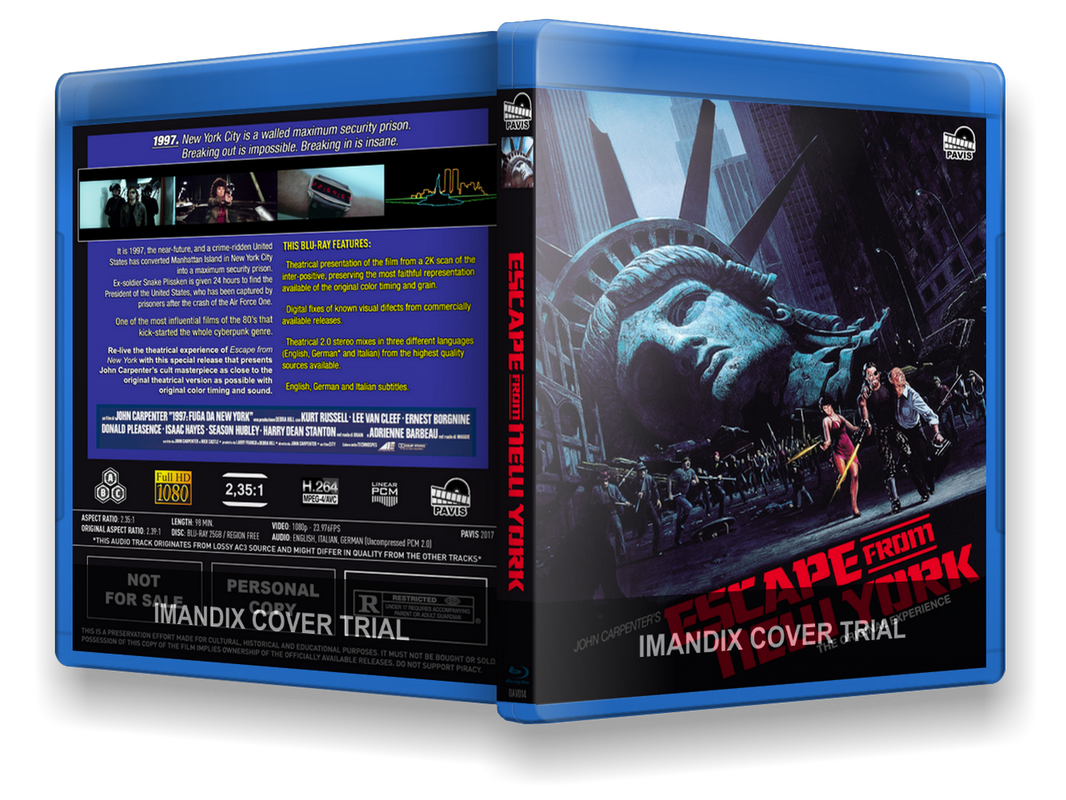 A superior 4k version was released officially and made this "fixed version" of mine obsolete, so consider it abandoned. You can buy the new 4k release and forget the previous Shout Factory Blu-Ray. I leave this thread here for archival purposes.
preview case
Quote:

ESCAPE FROM NEW YORK - THE ORIGINAL EXPERIENCE





Mission

: to restore

Escape from New York

as close as possible to its original theatrical look (and sound) by cleaning up and fixing all issues with Shout Factory Blu Ray (list of fixes below).


Video source

: Shout Factory Blu-Ray


Audio source

: US Laserdisc, Italian Blu-Ray, German Laserdisc (all original stereo mixes)



Final format

:
Blu-Ray Disc 25GB including chapters but no menu or extras.


Video

: 1080p, AVC video bitrate 25Mbps average, 40 max. (2-pass encode: medium pass 1 + slow pass 2), 23.976fps.


Audio

: original stereo mix in English, German and Italian. All in 2.0 uncompressed PCM.


Subtitles

: English, German, Italian.

FEATURING A GRAND TOTAL OF

OVER 2 MINUTES OF FIXES

to the Shout Factory Blu Ray and

221 INDIVIDUALLY-CORRECTED FRAMES



--->COMPARISON IMAGES HERE

[PAVIS is my film preservation "brand", mostly aimed at preserving films how they first appeared in Italy, plus fixing US releases while I'm at it]

Special thanks to DoomBot and MrBrown.
___________ORIGINAL POST________
I have literally littered half a dozen other threads related to
Escape from New York
for my own preservation project and it's time to open my own.
I'm working on a version which will benefit from seamless branching for an Italian-American version of the film, probably of little interest for most since there's already an all-inclusive SpoRv release but our admin always encourages people to publish their own projects so this is my first little thing I'm working on. I thought I could do without having to re-encode anything but it seems like one encode will be needed after all so while I'm at it I thought I should probably try to fix
some
of the known issues of the Shout Factory release (which my project is based upon).
Video sources
: Shout Factory BR release, Italian bootleg telecine from 1981 (from which I reconstructed the Italian intro which will be featured in seamless branching hopefully)
Audio sources
: uncompressed PCM original soundtrack from Laserdisc for the English track, DTS 2.0 original mix from Bluray for the Italian track, AC3 German from Laserdisc.
I like barebone releases and
SpoRV's release
is already comprehensive of all extra material for the fans (commentaries, trailers etc), so I'm sticking to a simple menu, the film and not much else. Other languages could be added if they turn up in decent quality with the original mix but I'm not interested in including low-quality sound, or new mixes.
German intro from LD unfortunately turned out to be not from 35mm, I'm still hoping to hear if the French LD comes from a 35mm scan but unfortunately that trail went cold. If anyone wants to buy for his own collection and let me know, it's pretty cheap on eBay.
There will be two releases of this, an "international one", which will include English, Italian and German audio tracks and English BR cover, and an Italian one which won't interest most of you but will feature the Italian credits and a cover based on the Italian poster.
Down to the fixes now, I got this shopping list from
X5gb
and I added others that I found along the way:
Quote:1, Brightness / contrast needs to be fixed as its too bright (Mgm release was too dark with black crush and zoomed aspect ratio)
2, Blue lines (print emulsion damage) need to be erased and fixed as much as possible in numerous scenes.
3, Blown Out David 14 computer graphic needs to be fixed
4, Moire effect behind Snake in Hauk's office makes the picture look like it is alive.
5, All tracks from original spoRv version need to be synced.
1. Brightness
-fixed
Some say that the whole film is a bit too bright in the Shout release, I don't really see an issue with it, it's not
that
brighter and in any case it won't let me gain information from any blown-out whites (which are not
that
many anyway). In any case I've altered only the scene that most people complain about, the President and his blown-out map.
[Image: bFitmnK.jpg]
2. Blue lines
 All fixed
-
Blue splotches during the intro and in random parts of the film
- fixed
Shout / My fixed version
[Image: sc3X2ap.jpg]
[Image: YcjZAYo.jpg]
-
Blue line during the Van Cleef's arrival
-fixed enough!
(visible here
http://cdn.highdefdigest.com/uploads/201...shot_2.jpg
)
-
Blue horizontal line inside the scene inside Chock Full O' Nuts
should not be fixed, it's a lens flare and is also seen on 35mm
-
Blu line in the reverse shots in the diner when Snake says "shit" (before the line "you're a cop / I'm an asshole")
fixed
-
Blu line in the reverse shots when the Duke faces Snake at the train station and says "who are you?"
fixed
-
Blu line in the reverse shots of Snake when Cabbie talks to him for the first time
fixed
3. Blown Out David 14 computer graphic needs to be fixed
-fixed
This is one of the most lamented issues with the Shout Factory release. As we already know, the "Shout!" release is slightly more blown out compared to the MGM one but I hear of people saying it's so blown out they can't even read what appears on the monitor... is it my TV too dim or are they exaggerating much? I've fixed it anyway
This scene in the most recent German BR release (from nov 2016) is almost identical to the Shout BR, they only enhanced the outline of the letters but it still appears too bright
Shout / MGM
[Image: BDfPzpH.jpg]
[Image: BzEaTWh.jpg]
(Compare them in full screen)
This is my version
[Image: CrTgPy8.jpg]
4. Moire effect behind Snake in Hauk's office makes the picture look like it is alive.
-fixed
Painfully hard trying to remove it, we will see if it's really possible.
These are the early results
[Image: tAFfWK5.jpg]
edit: I abandoned my early attempts and used a portion of the 2016 German BR where they "kinda" fixed the problem.
5. tracks from original spoRv version need to be synced.
-
done
Both English and Italian PCM tracks are now properly synched. German AC3 from Laserdisc has been added.
6. Dirt appearing in many frames when the helicopters are flying over Central Park.
-
Fixed
If there are more obvious fixes needed for the Shout Factory release please let me know.
30 Nov 2016
All the visual problems that had to be fixed have been fixed.
I still need to work on subtitles (any help is
welcome
). Audio will be PCM for all tracks
30 Jan 2017
Stuck at authoring
10 Feb 2017
More blue lines found and to be fixed.
24 Feb 2017
More blu lines found and to be fixed
05 March 2017
Finished fixing everything, will encode soon.
10 March 2017
Italian version relased 
April 2017
US version released and available