Hey buddies, I managed to grab on the russian tracker an open matte 35mm scan of Running Man. It looks like it comes from a russia only DVD.
I know it's a scan because it looks nothing like the bad video scan that as existed now for about 20 years, and there are points flashing at the reel changes. It was in Pal so I resynced it at 23.976 both image and audio which was off pitch.
The audio is weird, it's 5.1 but sounds nothing like the Blu-ray / DVD 5.1 and looks mangled but doesn't have the weird effect of the remix where you can hear differences of sources in Arnold's dialogue dubbing and the gunshots sounds OK instead of being in a bin. I fixed the pitch and speed and re-authored in AC3 640kbps.
I think the remix was made from the stems and the separate music because on this version the music sounds nearly mono whereas it's spacious stereo on the remix.
I would be happy if someone take my work as is now and resync the Dolby Surround track from the Olive Blu-ray (which I don't have), and also the french track plus subs. PM and I'll send you a link when I up it later tonight.
Here are some grabs: You can see the old scan isn't has clipped in the whites as the DVD/Blu, in fact this old scan looks like I remembered the movie. The crap DVDs and Blu-ray look like it was shot on DV video.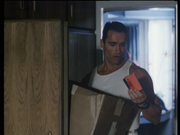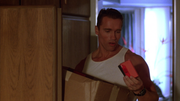 Incidentaly, there is a french version with localised intro that has been on youtube for years and is never disturbed. It looks to me this movie might be in legal limbo in France due to the plagiarism trial by the french director who did the film adaptation Le Prix Du Danger based on the novel Stephen King also took inspiration from.
https://youtu.be/sC8t26QXyYE